SAP Business One
ERP Solution That Use By More Than 70,000 Customers Over The World
1. SAP Business One History
SAP Business One was originally launched in Israel in 1996 as "Menahel" ("manager") or "TopManage", for countries outside Israel. The company was founded by Reuven Agassi (CEO) and Gadi Shamia (Vice President of Sales, Marketing and Product Manager). The product is designed by Gadi Shamia and the main developer is Hilla Mazinter.
For the first few years, TopManage was only sold in the Israeli market and was the first Windows/Mac business management product to be offered in the Israeli market. In 2000, TopManage began its global expansion into markets in Europe and Latin America.
In March 2002, SAP purchased TopManage Financial Systems and rebranded the "TopManage" system as SAP Business One. TopManage founders like Reuven Agassi and Gadi Shamia were given the reins at SAP after TopManage was acquired by SAP.
More detailed information about the history of SAP Business One refer here
2. SAP Business One Features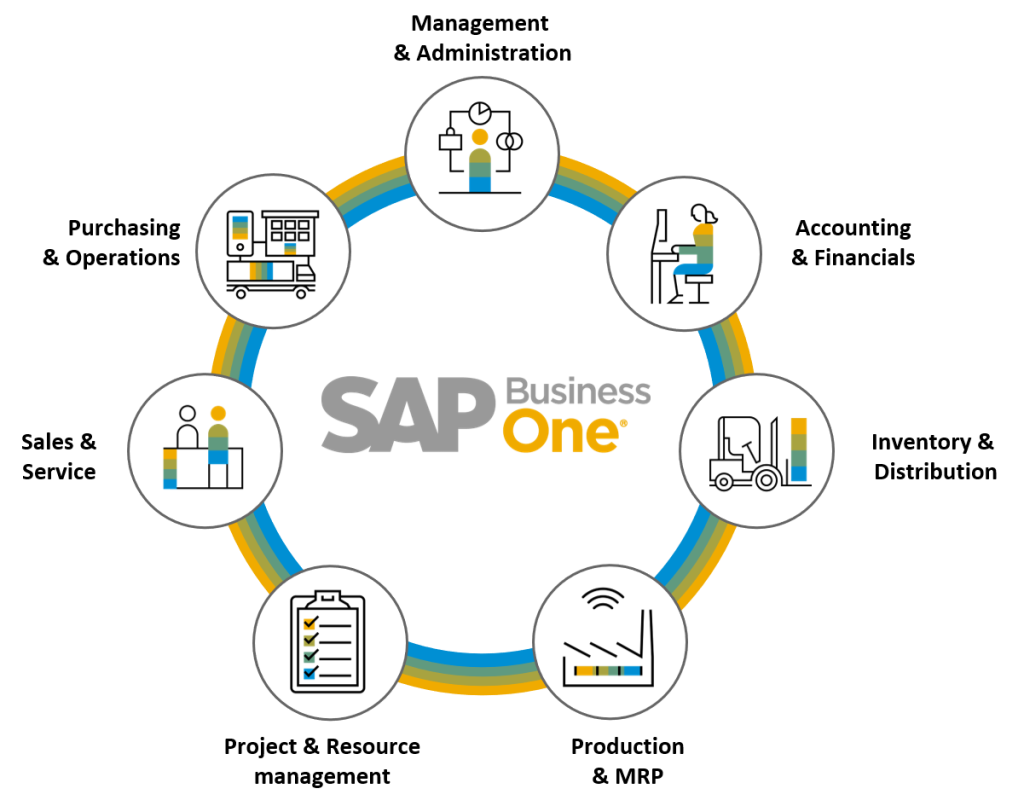 2.1. Financial Management
Improve margins, reduce errors, and drive more profitable decision-making with a complete set of tools for streamlined financial operations.
SAP Business One provides a complete set of tools to help control and standardize your financial operations. It automates day-to-day accounting processes such as updating ledgers and entry entries, supports tax calculations, and enables multi-currency transactions
You can perform all banking operations – including payments and bank reconciliations, as well as account reconciliations. You can also control cash flow, budgets, compare actuals and plans to see where your business stands right now
By integrating real-time financial operations with other business operations, such as purchasing and sales, you can speed up the processing of transactions, improve your business's ability to analyze cash flows.
2.2. Sales and Customers Management
Finding new customers is always important for the growth of every business, but maximizing existing customer relationships is even more important.
SAP Business One provides tools to help effectively control sales processes and customer turnover – from first contact to closing, even after sales support.
The built-in customer relationship management (CRM) functionality in SAP Business One provides a holistic view of your potential customers, so you can understand them and satisfy their requirements better. As a result, you can move them from prospects to your customers, increasing sales and profits, and improving customer satisfaction.
2.3. Procurement Management
All small businesses need a systematic approach to controlling purchasing processes, from requesting supplier quotes, creating purchase requisitions, paying suppliers. SAP Business One provides complete control over the procurement-to-pay cycle, including supplier's invoices, supplier returns, and payments. Built-in reporting tools allow you to easily compare suppliers, negotiate prices more efficiently, and spot potential cost-saving opportunities.
2.4. Inventory Management
SAP Business One provides accurate information about incoming & outgoing shipments, inventory, specific location of goods. You can valued inventory using standard cost, moving average, first in first out. Control inventory levels, stock moving in real time. You can run inventory revaluation, checking stock level for orders fulfill in real time, helping to control price list & ​​special prices. You can also apply discounts according to order size, cash payment, customer type, and run reports showing issues related to that order.
2.5. Production Management
SAP Business One is a platform that provides integrated, streamlined, and automated processes for manufacturing. Whether an enterprise's production process operates under a make-to-stock or make-to-order production model, even the production model are designed specifically for customers (engineer to order), SAP Business One is still a reliable platform that provides tools to optimize daily production operations, eliminate waste in the production process, and improve productivity, improve output product quality.
2.6. Analytics and Reporting
SAP Business One provides powerful analytics reporting tools. It includes the SAP Crystal Report for SAP Business One, the version that is fully integrated into SAP Business One, so you can collect data from a variety of sources, run accurate reports in real time based on data collected from all departments. Perfectly compatible with the Microsoft Office, SAP Crystal Report allows you to export report to variety formats type.
Design intuitive, interactive dashboards and reports that answer your most pressing questions. Managers can also track revenues, costs, and cash flow accurately; assess performance; and take swift corrective action.